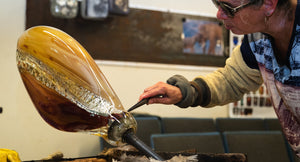 Randi Solin Glass: Handblown Glass Art
Randi Solin creates original blown glass sculptures for galleries, art consultants, interior design trade, public and private collections, and art collectors. Randi's studio is located on the beautiful West River in the Southern Vermont Town of Brattleboro, Vermont.
About Randi
Randi Solin uses glass like a contemporary abstract expressionist painter, combining techniques from Venetian and American traditions of glassblowing.
Solin's art has been collected, shown, and exhibited throughout the world. Her work is currently on display at the Metropolitan Museum of Art in New York City, and in the permanent collections of the White House and nine U.S. Embassies.
Randi's glassblowing arena is located in Brattleboro, Vermont.
Read More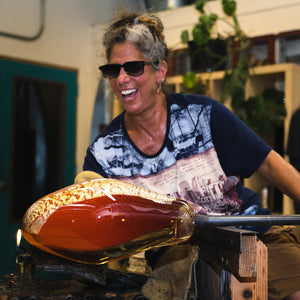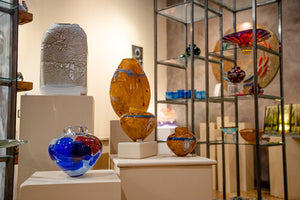 Galleries
My glass art is represented by galleries across the US and internationally. I encourage everyone to support local businesses whenever possible.
View Galleries
Visit Our Studio
Visit Randi Solin's glassblowing arena at Fire Arts Vermont, located on Route 30, two miles north of downtown Brattleboro.
Feel the heat of the glass furnace and watch professional glassblowers at work! Visit the Fire Arts Vermont gallery and open studios Thursday - Monday from 12-5.
Contact Us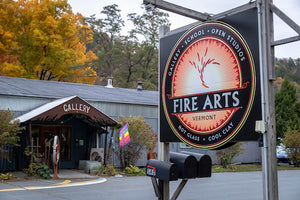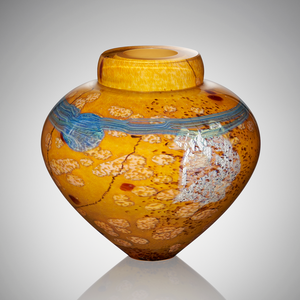 return policy - our must love it 100% guarantee
We want you to love your piece. If for any reason you don't love it, we'll exchange it for any piece of equal or lesser value.
Our Shipping Policy
Each piece is created just for you. We aim to have your order ready to ship in 2-3 weeks from the time you place it. We ship globally and calculate shipping at the time of shipment, and we will charge your card then.